Different fact-finding methods work for different advisers…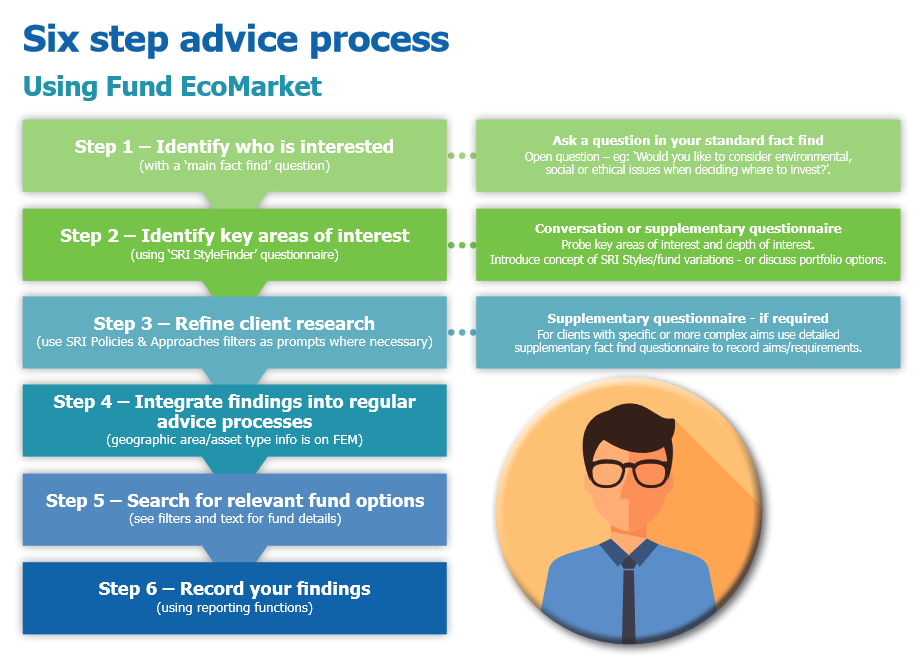 You will be better placed than anyone to know what will and will not work for your business and your clients – which is why we offer ESG / sustainable investment fact finding 'suggestions' rather than a single solution.
Our six set advice process (shown above) has been designed based on many years discussing this area with advisers.
It starts with suggesting you ask a single question to identify who is interested this area:
Example questions include:
'Would you like us to consider any environmental, social, ethical or faith related issues when looking at where you might invest?'
'Are there other issues that you care about that you might like to consider – like environmental or social issues?'
Once you have identified who is interested you can then explore your clients' views and start narrowing down possible fund choices. Methods include:
Introduce clients to our 'SRI Styles' (or similar high-level broad areas of interest). This works well for getting things started – and it may be that this is sufficient, for example if a client indicates they have strong opinions about a specific area like sustainability.
However, many clients will have more specific requirements (areas they'd like to focus on or exclude) – in which case you need to find out more. Options include…
Offer clients a supplementary fact find with a more comprehensive list of ethical, social and environmental issues so that they can chose between them.
To build your own supplementary ESG/SRI fact find you can use the following downloads. These are unbranded and in Word, so that you can 'make them your own':
Using a combination of these two. 

Advisers often say that clients are interested in all – or almost all issues – and find it hard to prioritise. This is where the SRI Styles come in handy.  Combining these approaches means a client can start by indicating their main interests and build in additional or more focused areas of interest from there.
Further information
How to use our online StyleFinder tool
You can direct clients to our online 'SRI StyleFinder' (Supplementary Fact Find Questionnaire microsite) tool to help them find the Styles or 'types' of sustainable, responsible and ethical funds that match their personal interests most closely.

The questionnaire is a series of paragraphs that clients can chose from.
Once completed a client can simply click 'search' and generate a report that will list their top three SRI Styles.
They can then either print their findings of save them to pdf for discussion with their adviser.
You can then enter the Styles listed in their personal report into the SRI Styles filter field on Fund EcoMarket. (If you use only that field all funds in all of the selected SRI Styles will be displayed.)
The information we supply is 'for information only'. We are not authorised or regulated and do not advise clients.
If you are an individual investor, you can find an adviser through our Find An Adviser list. All the advisers shown offer all clients the option to invest in sustainable, responsible and ethical funds. Please note we do not endorse or vet advisers – this list is for your convenience only.